Carpet Flooring in Jacksonville, FL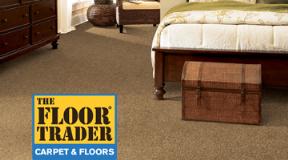 Our flooring store is your ultimate source for affordable carpet flooring in Jacksonville, FL. When you need carpet flooring for your residential or commercial clients, we save you money so you can invest in the growth of your local business. For more than 20 years, our store has been providing deep discounts for flooring shoppers throughout the area. We bypass the elaborate showroom extras and pass the savings directly onto you. Save an incredible 20-70% off retail prices at our local carpet store.
We carry hundreds of name-brand carpets including manufacturers like Mohawk, Tigressa, and Shaw so you can provide your clients the quality they expect. Set the standard, earn a great reputation, and save money when you choose our carpet store for all your home or business renovation and remodeling projects.
By purchasing floors from our extensive selection of carpeting, you're making a smart decision. Our inventory is neatly organized and easy to browse so you can quickly find what you need. We keep overhead low and quality high to offer you an unbeatable resource for your DIY flooring needs.
Easy to Maintain Carpet Flooring
Carpet flooring is a soft and comfortable alternative to other types of flooring that can be cold, hard, and uncomfortable to walk on. Because it is made with synthetic or natural fibers, carpet flooring is easy to clean and long-lasting. With proper maintenance and cleanup, your carpet floors can last for many long years.
In case of a spill, treat the affected area immediately. The longer a spill sits on the floor, the hard it is to remove the stain. The best way to remove most spills is to remove as much as possible with plain water and small amounts of mild, carpet-safe detergent. Keep your carpet looking great with regular maintenance. Vacuum it regularly to prevent it from getting dull or dingy and consider professional cleaning every 12 to 18 months. With a quick cleanup of spills and regular vacuuming, your carpet floor will look fresh and new for years.
Helping You Find Great Carpets for Your Clients
Buying discount carpet in our city is an enjoyable experience at our carpet store. Our highly trained associates educate you about the brands we offer and make recommendations based on you and your client's needs. We not only offer you great buys and expert assistance, but we also offer our exclusive At-Cost Installation program. This means we connect you with a professional local installer at no extra fee. Save time with our carpet floor installation connection and trust that our installers are dependable, courteous, and efficient. Come by our warehouse for the area's largest selection of in-stock carpet flooring.
Whether your client seeks a modern or traditional aesthetic, we have hundreds of carpet flooring options to choose from in a spectrum of colors and patterns. Our collections come in a variety of colors, loops, and fibers including all of the following:
Berber
Nylon
Polyester
Saxony
Frieze
Wool
Whether you prefer a comfortable and traditional feeling or a sleek and modern one, we have the perfect carpet floors to suit your needs. With a full range of styles to choose from, we're sure you'll find exactly what you and your client need to complete your project on time and under budget. Consider a soft and neutrally colored carpet from Conquest or Trader Mills when you want your room to be a blank canvas you can paint a masterpiece on. If you prefer your carpet to be the focal point of the room, consider something bright and exciting, like the SouthWorth Best style by Landmark in poppy red. So, next time you search for "carpet near me," you know where to go!
---
Contact us at one of our two locations, Jacksonville (904) 469-8751, or Orange Park (904) 337-6212 to discover a wide selection of carpet flooring options. We also serve clients throughout Jacksonville Beach, Atlantic Beach, Neptune Beach, Fernandina Beach, Amelia Island, Yulee, Hilliard, Ponte Vedra Beach, St. Augustine, Middleburg, Green Cove Springs, Keystone Heights, and Macclenny, Florida.