Carpet Flooring in Orange Park, FL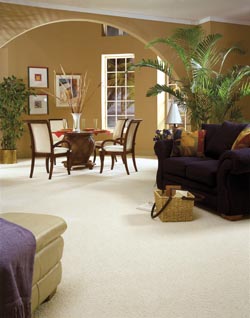 Experience the added luxury and enhanced appeal that comes from our selection of carpet flooring in Orange Park, FL. Instead of living with the worn and fading floors you have endured for years, replace them with carpeting in any color and texture imaginable. Start a conversation with one of our design specialists about your needs and the scope of your budget. We can provide you with a surface that is both comfortable and functional as well.
If you have a large family with kids and pets that are constantly on the go, our Berber carpet options may make the most sense. This innovative variety of carpeting features a yarn looping that is extremely durable. Our carpet store features a broad variety of options when it comes to texture and pile, so you are sure to find what you are looking for. We listen to your needs, and ask you important questions about your design plan, so you get the look you want at wholesale prices.
Carefully consider every aspect of your renovation project, and rely on us to help you choose the right contractor for carpet installation. Our competitive pricing and proven experience can make a big difference in the success of your plan. We understand that every home is different in its own unique way. You need a specialist with the right tools for any type of room you need carpet installed in. Each of our preferred contractors comes prepared, and the resulting look is sure to be something your neighbors and guests will notice.
Discount Pricing for Quality Carpeting
Saving money on carpeting doesn't have to come at the expense of style or substance. We offer a broad selection of quality discount carpet flooring from some of the most notable names in the flooring industry. With so many options to choose from, this process can become overwhelming for some. That is why our showroom is staffed by a team of friendly sales associates who understand carpeting better than anyone.
Whether you are restoring a home you have owned for years, or you are building a new home from the ground up, our selection of carpets has something to offer you. Tell us more about what you need out of every room, and let us suggest the right style of flooring for the lifestyle you plan to lead.
Carpeting can provide you with more than just colorful surface. This variety of flooring softens the loud noises and echoes that come from boisterous family conversations. When you slip off your shoes after a long day at work, you will enjoy the supple luxury and cozy feel that carpet flooring offers. If you anticipate a heavy amount of foot traffic through any room, the right move may involve purchasing our Berber carpet.
A Carpet Store with Everything in Stock
Get back to the business of living your life, and shop at a store that enables you to get what you need whenever you want. Our carpet store carries an extensive selection of carpeting and home flooring that is in stock and ready to install. When you make our store your source for carpeting, you get what you need at a price you can afford. We can also connect you with a preferred contractor that specializes in professional carpet installation.
---
Contact us today for the new carpet flooring you need, and ask about our helpful financing options. We proudly serve customers in Orange Park, Fleming Island, Green Cove Springs, Starke, and Keystone Heights, Florida, plus the surrounding communities.