Engineered Hardwood in Jacksonville FL
Do you need help choosing the right hardwood flooring from every option in our showroom? Are you excited to make a new flooring purchase, but don't know which type will look best in your home? Our experienced flooring experts are well-educated concerning every type of hardwood flooring, including hand-scraped and reclaimed hardwood. First, let us help you narrow down your choices as to which type of hardwood you want and then we will find the right look.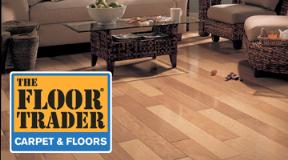 Clients choose engineered hardwood because it creates a beautiful look, but is less likely to be affected by humidity and temperature changes that cause moisture in the home. In a place like Florida, this kind of flooring will not contract or expand even in the hottest part of the summer. Plus, this flooring style is durable and the finish on the wood remains strong in even the busiest family home.
Hand-Scraped Hardwood with Antique Style in Jacksonville
Our customers choose hand-scraped hardwood flooring because of its incorporation of a classic, authentic look combined with the durability of modern floor manufacturing. This flooring is designed to resemble the look of planks made by artisans at a time when each plank had to be hand cut and scraped.
Some of the benefits of this stylish and popular flooring include:
Forgiving to Scratches and Dents Because They Blend into the Look of the Flooring
Durable and Easier to Refinish
Available in Different Styles of Scraping Based on Design Preferences
Easy to Repair or Replace a Damaged Plank
Either Engineered or Solid Hardwood Flooring
There is a style of hand-scraped hardwood to match the look of any home or office. Don't let heavy foot traffic scare you away from choosing this classic type of flooring.
Reclaimed Hardwood is Eco-Friendly
The most popular style of hardwood chosen by environmentally conscious homeowners is reclaimed hardwood. This style has a unique appearance because it has been removed from another application and refurbished for use as flooring. Customers love the non-uniform and authentic look of this flooring and some even believe this aged wood is less vulnerable to humidity changes. Expect strength, durability, and beauty from this increasingly popular material.
Solid Hardwood Flooring is the Classic Style
When people refer to hardwood flooring, they are often referencing the classic style of solid hardwood flooring. We recommend this style for its budget friendliness as it tends to be less expensive than some other kinds of hardwood. Also, these floors come unfinished, so you can choose the look you want for the finish.
If you are concerned about the durability of your new hardwood floors, let us help you choose one of the harder species for your installation. Once you've chosen your flooring, rest assured that this style can be easily sanded and refinished to keep it attractive and appealing for many years to come.
Contact us today to schedule an appointment to learn more about every type of hardwood flooring we sell including engineered hardwood. We offer a huge selection of hardwood flooring to clients in Jacksonville, Jacksonville Beach, Atlantic Beach, Neptune Beach, Fernandina Beach, Amelia Island, Yulee, Hilliard, Ponte Vedra Beach, St. Augustine, Orange Park, Middleburg, Green Cove Springs, Keystone Heights, and Macclenny, FL.