Hardwood Flooring in Jacksonville, FL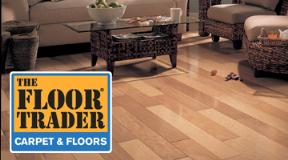 Save from 20 percent to 70 percent off retail prices on luxurious hardwood flooring at The Floor Trader. We keep the overhead low and pass the savings directly onto our loyal patrons. How do we do it? By skimping on showroom embellishments, we are able to cut costs without sacrificing quality on solid and engineered hardwood flooring.
Our flooring warehouse offers incredible deals on wood floors. Our residential and commercial clients love the unrivaled aesthetics of solid hardwood flooring and its superior longevity. Clients who are looking for the ultimate strength choose engineered wood for its durability and ability to withstand harsh climates.
We work with flooring manufacturers around the world to offer you beautiful wood flooring in a multitude of styles, grains, colors, and finishes. Our buyers work hard to strike a balance between quality and quantity, featuring leading brands you know such as Shaw™, Mohawk™, and Armstrong™ hardwood floors.
Engineered Hardwood Flooring for Versatility
Choose a flooring option that gives you the beauty of wood, as well as installation versatility. Select engineered hardwood for your flooring project. This hardwood option uses manufacturing enhancements to make wood resistant to moisture. This is done by using a veneer of the hardwood species of your choice on the top and adding multiple layers of high-density fiberboard. All of the layers are bonded together for strong and sturdy flooring.
One of the greatest benefits of engineered wood is that you can install in it any room of your house. This wood option is water-resistant, so go ahead and use engineered hardwood in your kitchen, bathroom, or basement. You get the rich look of wood at a cheaper price when you choose engineered hardwood flooring.
When we select flooring for our customers, we look for brands from manufacturers who offer eco-friendly options. Know that our engineered wood floors meet stringent emissions standards and are sustainable because they use less wood. Feel good about the green flooring you find in our warehouse.
The timeless elegance of solid wood floors complements any decorating style. This flooring option works as well in a Victorian home as it does in a contemporary setting or beach bungalow. The beauty of wood elevates every style of home décor.
Solid wood is made to last for up to 100 years. This is because this wood option consists of the species of your choice throughout each plank. Solid hardwood flooring is made from a single piece of wood. Because of this, you can refinish this flooring after it becomes scratched and worn.
Helping You with Hardwood Flooring Installation
We recommend professional installation for your precious hardwood flooring. Trained and experienced installers know how to place the flooring properly so that the boards adhere securely. When planks shift or move, they are subject to cracking and splitting. Expert installation prevents this problem.
To ensure that your wood floors look handsome for many years to come, you can choose a professional from our list of Preferred Installers. These experts provide skilled service, accurate estimates, and an installation warranty. Ask us to share our list of Preferred Installers with you. Offer your clients the best without breaking the bank. Local homes and business look chic with wood floors that make a statement, available in an array of species, glosses, grains, and stains.
We offer discount hardwood flooring that exceeds your client's expectations and saves you money. Shopping with us allows you to put the money you save back into your wallet for other expenses or into your business so you can continue to grow. All our flooring centers are locally owned and operated.
When you need hardwood flooring, our store has your solution. Keep your clients happy and your pockets full with our impressive discounts. Wood floors elevate the elegance of any space but can be a costly investment. At our flooring center, you find the same top-shelf hardwood flooring that you would find at a high-priced retail chain.
You find hundreds of in-stock options at our warehouse-style flooring center. Complete your projects on schedule by taking advantage of our cash-and-carry approach. It is simple. Browse our flooring store, find the perfect floor, and take it home for installation the same day.
---
Contact us at one of our two locations - Jacksonville or Orange Park. You may also use the form to the right, or visit us at either of our two locations in Northeast Florida. We proudly serve clients throughout Jacksonville, Jacksonville Beach, Atlantic Beach, Neptune Beach, and Fernandina Beach, Florida, as well as the surrounding areas.