Laminate Flooring in Jacksonville, FL
The Floor is your go-to destination for stunning laminate flooring! Our friendly flooring experts are here to make shopping for flooring a breeze. Elevate the elegance of your space with our beautiful and practical laminate floors that perfectly combine style and cost-effectiveness.
With over 20 years in the flooring industry, we take immense pride in serving our fellow locals. We handpick the best laminate flooring products to match the unique style and vibe of Jacksonville and our customers. Step into our showroom and experience a touch of Jacksonville charm and top-notch flooring.
From coastal vibes to urban chic, we've got the perfect laminate floor for every home or business. Don't worry about your budget; we offer appealing floors at equally appealing prices. Visit our Jacksonville showroom today, and let's kickstart your laminate flooring remodel. Let's turn your house into a stylish and cozy home together!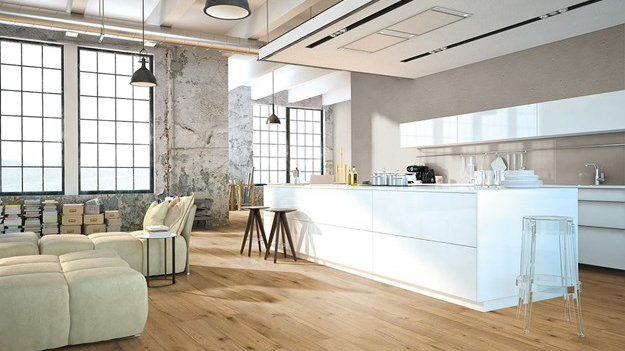 Types of Laminate for Your Florida Home
At our Jacksonville showroom, we offer two main styles of laminate flooring that will transform your home with their beauty and functionality:
Laminate Wood Flooring

: Wood-look laminate floors provide a luxurious appearance at a budget-friendly price. With their elegant and lustrous design, these floors add a touch of sophistication to any area or room. They are one of our most affordable options and a customer favorite for their cost-effectiveness and durability. Laminate wood floors are low-maintenance, keeping their attractive appearance for many years. Their sturdy structure and scratch-resistant surface make them suitable for any room in your home. Moreover, they won't expand when exposed to moisture. Best of all, laminate wood perfectly mimics the texture of real wood without the high cost or demanding upkeep.

Laminate Tile Flooring

: If you desire the look of ceramic, porcelain, or stone tile without the high price tag and extensive installation process, then tile-look laminate flooring is the perfect choice for you. It's a cost-effective alternative to traditional tile, and you'll be amazed by the variety of design options available. Perfect for your kitchen or bathroom, laminate tile flooring comes in various colors and textures, allowing you to achieve the aesthetic you desire. Moreover, it offers the added benefit of being resistant to cracking and chipping, making it a practical and long-lasting solution.
Why Choose Laminate Floors?
Affordability

: Laminate flooring offers a cost-effective solution for achieving the look of hardwood, tile, or stone without the hefty price tag. It's an excellent option for budget-conscious homeowners who want a high-end appearance without breaking the bank.

Versatility

: With a wide range of styles, colors, and patterns available, laminate floors offer incredible design flexibility. Whether you prefer the warmth of wood or the sleekness of tiles, you can find a laminate that complements your decor and suits your taste.

Durability

: Laminate flooring is built to withstand heavy foot traffic and everyday wear and tear. It's resistant to scratches, stains, and fading, making it an ideal choice for busy households or commercial spaces.

Easy Maintenance

: Cleaning laminate floors is a breeze. Regular sweeping and occasional mopping are all needed to keep them pristine. Unlike natural wood or stone, laminate doesn't require special treatments or refinishing.

Moisture Resistance

: Laminate floors are more resistant to moisture than hardwood, making them suitable for areas prone to spills or high humidity, such as kitchens and bathrooms.

Quick Installation

: Laminate flooring is designed with a simple click-lock system, allowing for fast and easy installation. This means less disruption during the installation process, saving you time and money.
Laminate vs. Luxury Vinyl Flooring: Which Is Right For Your Home?
When it comes to durable and visually appealing flooring options, laminate and luxury vinyl are popular picks for many homeowners. Laminate is super sturdy, great for busy areas, and looks like real wood or stone without breaking the bank. Meanwhile, luxury vinyl is perfect for wet places like bathrooms and kitchens due to its water resistance. It's easy to install and comes in a variety of styles. If you want a classic wood or stone look and need a budget-friendly choice, laminate is a winner. But if you need water resistance and love various styles, luxury vinyl has you covered. No matter which you go with, laminate and luxury vinyl have fantastic features to spruce up your home. So, consider your ideal aesthetic, budget, and where you'll put your new floors, to pick the perfect flooring for your space!
Find Professional Laminate Flooring Installation
Once you've chosen your new laminate flooring, schedule professional installation from our Preferred Installer list. You are in charge of selecting a professional flooring installation contractor from our list so that you feel comfortable that your project's needs will be met. These specialists have the professional tools and skills needed to lay down laminate of every shape and size. Let us guarantee your new floors look and perform as intended. Your laminate flooring installation will be done right the first time you rely on our list of flooring experts to install your laminate floor style of choice!


Contact us to learn more about our laminate flooring options! We proudly serve clients throughout Jacksonville, the Beaches, Fernandina Beach, Amelia Island, and Yulee, Florida, plus all of the surrounding areas.