The Truth About Luxury Vinyl Planks in Jacksonville, FL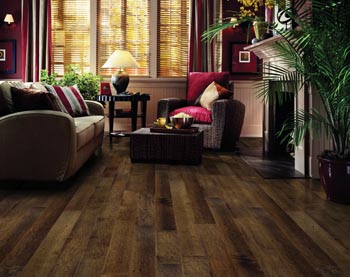 Trying to find the right type of flooring for your home can sometimes feel like a real uphill challenge. Some of the styles you might like the best may not exactly work in the space you want to put them — this is especially true in moisture-prone rooms such as the kitchen or bathroom. Before you settle, however, allow the team at the Floor Trader of Jacksonville to introduce you to another option: luxury vinyl planks in Jacksonville, FL.
When you first hear "vinyl flooring" you might think about the durable, but bland floors you once used to see in supermarkets, schools, or hospitals. Luxury vinyl planks are different. They still bring all of the resilience you would expect from a vinyl floor, but instead of being ho-hum, these floors are absolutely gorgeous.
Just how good do these LVP floors look? Well, they are able to perfectly mimic the look of both hardwood as well as natural stone. Come on down to our flooring showroom today to have a look for yourself. You might be surprised to find out that you won't be able to tell the difference between the two when they are put side-by-side.
Homeowners Love LVP Floors
The Sunshine State isn't exactly known for being dry. From winter rain storms to summer humidity, there is a lot of moisture in the air, and it can be a killer for certain types of floors. This is especially true in bathrooms and kitchens, where the chance of water spills are very high. Fortunately, luxury vinyl plank floors are able to withstand the fluctuating moisture conditions that come with not only the weather, but general household accidents as well. You'll never have to worry about floors that buckle or swell when you choose LVP.
These floors look great and work even better. They can be designed to perfectly fit the décor of your room while giving you years of worry-free performance. There is a reason why so many homeowners throughout the First Coast are turning to LVP for their surface needs. Reach out to one of our helpful staff members to learn more.
Professional Luxury Vinyl Plank Floor Installations
Proper installation is a must if you want to get the most out of your new floor. The team at our flooring showroom ensures the success of your floor by providing you with professional luxury vinyl plank floor installation. We are trained on all of the different floors we offer, which means we know how to flawlessly install your floor efficiently and effectively.
---
Contact us to find out more about our luxury vinyl planks. We proudly serve customers in Jacksonville and Orange Park, Florida, as well as the surrounding areas.