Pet Friendly Flooring in Jacksonville FL
Dogs, cats, and other household pets are hard on floors. When choosing flooring for your home, keep your furry friends in mind while ensuring your floors look beautiful. Our experts advise you on the ideal resilient flooring if you have pets, and our selection of stain-resistant carpet options and sealed flooring ensure your floors last many years. Whatever the special needs of your household, we have the ideal option to match your style. Our flooring materials include:
Laminate & Vinyl for Easy Care Flooring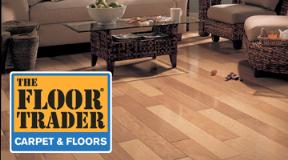 There are three main causes of floor damage from pets: scratching, staining from water spillage, and staining from urine. The essential feature of pet-friendly flooring is its stain resistance and durability. For the ultimate in easy maintenance, we recommend laminate or vinyl floors. Laminate is one of the most affordable resilient flooring options and comes in a variety of styles to match any existing décor. For areas where your pet often plays, laminate floors are excellent solutions when you need a durable yet attractive surface.
Vinyl flooring is a good choice because it is impervious to water. At the same time, because it has four layers of protection, vinyl withstands staining and scratching from your pets. Vinyl is also quieter than laminate, muffling the sound of foot traffic, even if your pet is roaming about. Vinyl comes in sheets and individual tile pieces. Investing in luxury vinyl tile (LVT) allows homeowners to easily replace single tiles that are damaged. We carry a variety of sealed flooring in vinyl and laminate from a variety of brands including the following:
| | | |
| --- | --- | --- |
| • Armstrong™ | • Landmark™ | • Resista™ |


Green & Durable Pet-Friendly Flooring
Pets are tough on hardwood flooring because it is highly susceptible to scratching. Most varieties of hardwood flooring are easily stained by urine or water spills that are left too long. However, there are some wood flooring options that are as pet-friendly as they are eco-friendly. Bamboo is one of the most durable floors at an affordable price and very easy to maintain. Cork flooring is naturally hypoallergenic as well sound absorbing, reducing the echoing noise of a barking dog.
Stain-Resistant Carpet Flooring
Carpet remains the most popular and affordable flooring option, but not all carpet is pet-friendly. Other options may be more resistant to scratches, but they are also uncomfortable for your pets. Carpet is one of the best all-around pet-friendly flooring options. For the most suitable carpeting, consider wool carpet tiles. If an individual carpet tile becomes stained or dirty, it can be removed and cleaned or replaced without the need for full re-carpeting.
Even if carpet tiles are not the right choice for you, we have many other options. Our flooring warehouse is well-stocked with stain resistant carpet made with pets in mind from the following popular brands:
| | | | | |
| --- | --- | --- | --- | --- |
| • Shaw™ | • Mohawk™ | • Milliken™ | • Beaulieu™ | • Fabrica™ |
| • Godfrey Hirst™ | • Bigelow™ | • Dixie™ | • Tigressa™ | |
---
Contact us today to find the best flooring option for you and your pets! We service customers from Jacksonville, Jacksonville Beach, Atlantic Beach, Neptune Beach, and Fernandina Beach, as well as the surrounding areas.