Tile Flooring in Jacksonville, FL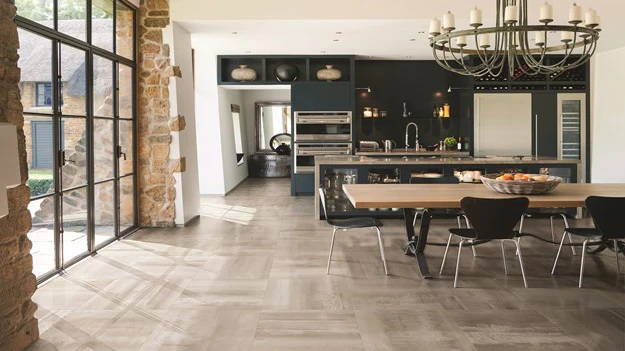 Revising your home's interior design with beautiful new tile flooring is simple. Transform any room in your home with classic and stylish tile flooring from The Floor Trader. Creating a modern look that anyone would find desirable is affordable, simple, and fun when you visit our fully stocked local showroom in Jacksonville, FL. We are here to help make your design goals become a reality!

When you visit our showroom, you can explore our vast selection of tiles at wholesale prices. When you need a flooring option that offers timeless appeal in any room, turn to our dedicated flooring experts. From ceramic tile to porcelain tile and everything in between, you can access various options when you shop with us. You'll find no shortage of high-quality tile flooring and service with select brands such as Emser and Ridgeland.
Advantages of Tile Floors
When it comes to flooring options, tile offers a multitude of benefits that make it a top choice for homeowners. Discover the numerous advantages of tile:
Durability and Beauty

: Tiles combine aesthetics and resilience seamlessly, providing a stunning and long-lasting flooring solution.

Stain and Wear Resistance

: Tile's exceptional resistance to staining and wear ensures it thrives in high-traffic areas, maintaining its beauty for years.

Low Maintenance

: Minimal upkeep is required to preserve the durability and appearance of tile, simplifying your cleaning routine.

Budget-Friendly

: Tile's cost-effectiveness accommodates various budgets without compromising quality or style.

Water Resistance

: Its water-resistant nature makes the tile a favored option for moisture-prone spaces, assuring longevity and performance.

Improved Air Quality

: Unlike other flooring types, tile doesn't trap allergens, contributing to better indoor air quality and a healthier living environment.

Longevity

: With proper care, tile flooring can endure for decades, potentially lasting the entire lifespan of your home.

Increased Home Value

: Installing tile flooring enhances your living space and adds value to your home, making it a smart investment.
Explore Our Tile Flooring Collection in Jacksonville, FL
Discover a wide array of tile flooring options at our Jacksonville showroom or online. Our extensive selection includes tile flooring engineered to withstand water, heat, scratches, stains, and fading. Tile flooring is ideal for those seeking complete customization for their floors, patios, or backsplashes. With options ranging from light to dark shades and grain styles spanning from subtle to prominent, you can even achieve the classic elegance of marble or the timeless appeal of wood. Unlike other flooring materials like carpet, hardwood, or luxury vinyl, tile flooring offers unparalleled versatility. It suits outdoor walkways, wall backdrops, and interior floor plans. Explore our diverse tile types:
Ceramic Tile

: Elevate your space with the elegance of ceramic tile. This affordable, heat- and water-resistant option features texturized surfaces for slip resistance. Crafted from a blend of clay and natural materials, ceramic tiles are kiln-fired and can be glazed or left unglazed. Their softness makes them easy to cut and install.

Porcelain Tile

: Experience the same vibrancy as ceramic but with enhanced durability. Porcelain tiles undergo a longer kiln-firing process, resulting in a denser finish. This makes them highly resistant to stains, cracks, and water damage while maintaining an elegant appearance.

Stone Tile

: Embrace the natural beauty of stone tile for indoor and outdoor spaces. With its earthy and rustic aesthetic, stone tiles come in warm blue, gray, gold, orange, and green tones. These tiles are directly quarried from the earth, adding a unique and timeless charm to your home or landscaping.
Beautiful Wood-Look Tile
With its wood plank stile, wood-like tile is available in the appearance of well-known wood species like oak, pine, mahogany, and more. Our wood-look tile products allow you to bring the highly desired appearance and texture of hardwood flooring into the moisture-prone areas of your home without worrying about damage. Actual hardwood floors tend to absorb moisture and swell before contracting again, creating gaps between planks and making the surface more prone to wear and tear. Tile doesn't swell when exposed to moisture, which makes it more suitable for humid climates and the areas around your home that get exposed to moisture a lot, like kitchens, bathrooms, and laundry rooms.
Let Us Handle Your Tile Installation
While tile flooring offers ease of installation, ensuring your investment is installed accurately with precision to detail is important. Contact us before installation, and we can provide you with a list of professional, well-recommended tile installers. Our network of professional technicians has a proven track record of expertise with no hidden charges. As a Floor Trader customer, you can get several quotes before making an informed decision.
Contact our specialists to learn about our vast selection of tile flooring products. With two locations in Jacksonville and Orange Park, we proudly serve clients throughout Jacksonville, Jacksonville Beach, Atlantic Beach, Neptune Beach, and Orange Park, FL.