Tile Flooring in Jacksonville, FL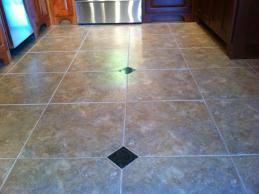 Transform the look of any room with classic and stylish tile flooring. Your options are virtually limitless when you shop at our flooring store. Whether you are a homeowner a contractor, or a business owner, you'll find the perfect porcelain or ceramic tile options when your browse our showroom.
By shopping at our discount flooring center, you achieve the desired aesthetic you want while saving a significant amount of money. In fact, at Floor Trader, you save as much as 70% off name brands, including Mohawk® and Shaw® ceramic, porcelain, and slate tile flooring. We skip the showroom embellishments to achieve what really matters: high-quality flooring at low prices.
Discover savings and endless options! Choose from sophisticated natural stone, porcelain, or ceramic floor tiles. Tile is a multidimensional flooring product that exudes elegance and adds rich appearance to any residential or commercial space. Whether you are seeking something clean and professional or bold and unique, we offer an array of colors, styles, and variations so you can find exactly what you need.
Does your floor need facelift? If you're tired of walking on worn-out floors, we have a solution. Improve the appeal of your place by relying on us for stunningly spectacular tile flooring. We have a wide selection at our warehouse showroom that helps you give your place a wall-to-wall makeover. In addition, we connect you with reputable and customer-approved flooring installers after you've made your selection. After all, we want to ensure your new floor looks the way you want it – and lasts for a long time. Our team handles flooring projects of all sizes and scopes. Some of the name-brand tile floors we carry and install include Hinoki and Stonehurst.
Go from drab to fab when you want a new floor! Ceramic tile dramatically improves the ambiance of any room. It is a durable and versatile flooring product that lasts longer than a lifetime while creating a classy look. In addition, ceramic floors are easy to maintain and clean. Best of all, we offer savings on top of savings at our store. It's never been more affordable to purchase ceramic tile floors than now.
When you install them, you don't have to feel limited to a basic grid pattern. We can make your floor look unique and creative. For instance, your tile flooring installation experts can create a checkboard pattern, a tile boarder, or anything you want to add an elegant touch to your tile flooring project.
Advantages of Installing Porcelain Tile
Choose a durable, versatile, and eye-catching floor when you plan to upgrade your home. The ideal choice for many property owners is porcelain tile. This product is not only strong, but exceptionally elegant. It dramatically enhances the ambiance of a room, and it comes in many colors and styles, as well as sizes and shapes.
Best of all, at our flooring store, we guarantee low prices on all of our products. That's something you will not find at other flooring stores. Let us help you choose the perfect porcelain tile floor for your project.
Discover the Strength & Beauty of Slate Tile
Slate is a gorgeous, natural material that has been used for centuries. It is a fine-grained rock that is prized for its beauty and strength. Still, the advantages of slate go far beyond the aesthetic. Slate tile is also resistant to water. This makes it an ideal flooring material for bathrooms and kitchens. It's also perfect for showers, backsplashes, countertops, and other areas that are prone to spills and moisture.
Make a smart choice by choosing slate when you are planning your flooring project. It is not only attractive, but it is an economical floor as well. Your new slate floor will last for decades with only minimal care and maintenance. In addition, slate floor is a major selling point if you ever plan to sell your home in the future.
Shop Smart & Enjoy Professional Tile Floor Installation
There's no shortage of quality flooring at our showroom, as we offer hundreds of in-stock options. Experience the "cash and carry" benefit by stopping by our flooring center. Find the perfect floor and take it home for installation the same day! We give you complete control and confidence in hiring an installer, because we have a preferred installer list already prepared for our customers.
At the same time, there are no hidden charges when you use a preferred installer. Instead, you pay the installer directly and avoid the middleman. Most importantly, you do not have to pay for installation until you are completely satisfied with the job.
---
Contact us at one of our two locations, Jacksonville or Orange Park to browse for high-end, low-priced floors. We proudly serve clients throughout Jacksonville, Jacksonville Beach, Atlantic Beach, Neptune Beach, and Orange Park, Florida, as well as the surrounding areas.