Tile Flooring in Orange Park, FL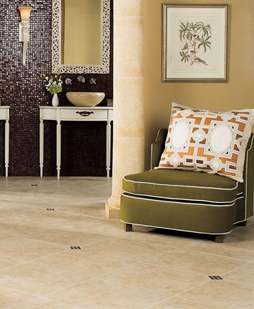 Tile flooring has been sought after by builders and homeowners for hundreds of years. Get the lasting elegance of tile without being subjected to the high pricing and limited selection offered by other stores with large overheads. Make our showroom the first step in your design journey. Our preferred contractor can save you a great deal of time and money with professional tile flooring installation.
Streamline the entire renovation process by choosing from our extensive selection of ceramic tile. This option gives an installation contractor a greater amount of latitude when it comes to creativity, and it is easier to clean as well. When you are in the market for a durable flooring product that maintains a consistent color even when scratched or chipped, our porcelain tile and slate tile make great choices.
Prompt Tile Flooring Installation
Choose from our broad selection of in-stock options the next time you need flooring that is ready for installation. Any time you decide to renovate your kitchen or bathroom, your family may experience a great deal of inconvenience. When you turn to the professionals at our flooring store, you get the flooring you need without delay.
Save time and money on your next restoration project when you partner with our preferred tile flooring installation contractors. They carefully measure out every inch of your living space, so the end result looks just like you imagined. Preferred contractors can complete any project on time, and according to budget, so you can get back to enjoying your new flooring. You make the choice of the preferred contractor you work with, so you are completely satisfied with the approach provided.
Stylish & Durable Ceramic, Porcelain, & Slate Tile
Replace your scratched and faded flooring with new ceramic tile from our extensive selection. We offer an amazing array of tile products from some of the biggest names in the flooring industry. Our buying power allows us to offer tile flooring options from trusted brands at wholesale prices.
Both ceramic and porcelain tile is easy to clean as well. Instead of exposing your pets and children to harsh chemicals and cleaners, clean your floors quickly with just a mop and some warm water. With the savings you experience when purchasing our discount flooring, you can cover more of your floor than ever before. Broaden your design horizon and create a place that your family can be proud to call their own with our selection of porcelain and ceramic tile.
The look and feel of natural stone can enhance the value and appeal of your home. Our deep discounts on slate tile make it easy to choose from our selection of slate, you get a home that others will want to emulate.
---
Contact our locally-owned outlet today for the value-added tile flooring you need for your next renovation. We proudly serve customers in Orange Park, Fleming Island, Green Cove Springs, Starke, and Keystone Heights, Florida, plus the surrounding communities.