Vinyl Flooring in Orange Park, FL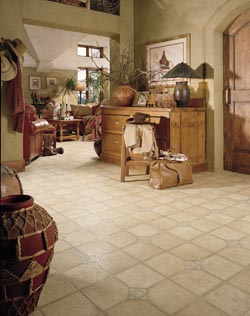 Create modern living spaces that are stylish and practical by incorporating our vinyl flooring into your next design plan. Get more about of your renovation budget than you ever thought possible with our discount options for vinyl sheet flooring. Our selection of discount flooring is ready to move, and each of our options is available for purchase the day you visit. Wholesale flooring doesn't have to look ordinary when you have a friend in the business.
Spend less time cleaning and more time enjoying life on the First Coast when you make our vinyl tile or plank flooring a part of your kitchen and bathroom. The unbroken pattern is attractive, and the lack of seams and edges makes it easier to clean as well. Give us an idea of your approach to interior décor, and your available budget, and let us find the right flooring choice for every room in your home.
The right flooring can make a big difference in the resulting look of your home. With so much to consider when it comes to the vinyl flooring installation process, hiring a proven professional just makes good sense. With the right tools and your best interests in mind, our group of preferred contractors can transform your home into a destination. Set the standard for your ideal style when you purchase this durable flooring. The realistic look of our vinyl plank flooring can give you a greater amount of latitude in the design process.
Stylish & Durable Vinyl Sheet Flooring
Work directly with a team of design professionals that take the time to listen to your needs. When you are in the market for an attractive surface that is simple to clean and easy to install, our options for vinyl sheet flooring are a great choice. This durable surface features an unbroken pattern from wall to wall, with no ridges or seams where dirt and dust can hide. As a locally owned flooring store, our personalized service sets us apart from other flooring providers.
Save a great deal of time and money during your next renovation project by choosing from our list of preferred contractors for vinyl flooring installation process. Our installation is provided by a group of preferred contractors that have demonstrated a commitment to quality and value. With the right tools and an eye for detail, these contractors ensure you get a surface that is capable of standing the test of time.
Versatile Vinyl Tile Flooring
Create a surface in your kitchen that features an original pattern unlike anything you have ever seen. Vinyl tile flooring is easy to cut into a variety of shapes and sizes, and this affords you a greater level of versatility during the installation process. Instead of settling for the same old pattern that others have in their homes, you get a floor that is sure to make an impact with any guest.
Take advantage of the latest advancements in imaging and manufacturing and get vinyl plank flooring from some of the leading names in the flooring industry. These planks offer a high-end look, and the durability and ease of maintenance that comes from vinyl flooring, without the limitations posed by moisture and wear. You deserve a flooring store that offers all the products needed to create a truly original interior.
---
Contact us today to experience our outlet environment filled with all the vinyl flooring options you need. We proudly serve customers in Orange Park, Fleming Island, Green Cove Springs, Starke, and Keystone Heights, and surrounding communities.